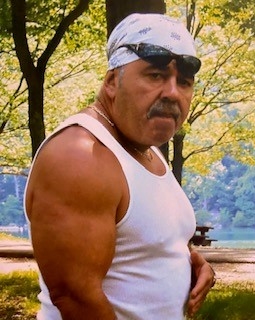 Share
Let the family know you care by sharing this tribute.

Thomas Edward Mann of Pinellas Park, Florida passed away peacefully at home surrounded by his family on Saturday, March 4, 2023.
Tom was born in Peekskill, NY to Ervin and Gertrude (Lockwood) Mann. He relocated to Florida in 1999 with his family.
Tom loved his family immensely. He was predeceased by his father Ervin Mann and sister Vanessa Mann. He is survived by his mother Gertrude, his brothers Gary and Eugene, his wife Caroline, and children Paul (Kristie), Thomas J. (Alicia), Christopher, Daniel, Lisa and Michelle, Russell, Tom, Jeanette, and Christine, 14 grand children, 2 great-grandchildren, and many nieces, nephews, and cousins.
Tom was always caring, loving and compassionate person in life. He developed an Ophthalmologic disease in his late 30's that left him legally blind. He continued to enjoy life and make the best of the coming years. Tom had a passion for weight lifting and worked hard at staying physically fit throughout the years despite his disability. He loved the beach, camping, fishing, his Boston Terriers Molly and Moe, and spending time with his family. Tom will be dearly missed by everyone who had the opportunity to be a part of his life.
A memorial service followed by a celebration of life reception will be held at Veterans Funeral Care, 830 N. Belcher Rd., Clearwater, FL 33765 on Thursday, March 9th at 1:30pm.
Share
Let the family know you care by sharing this tribute.