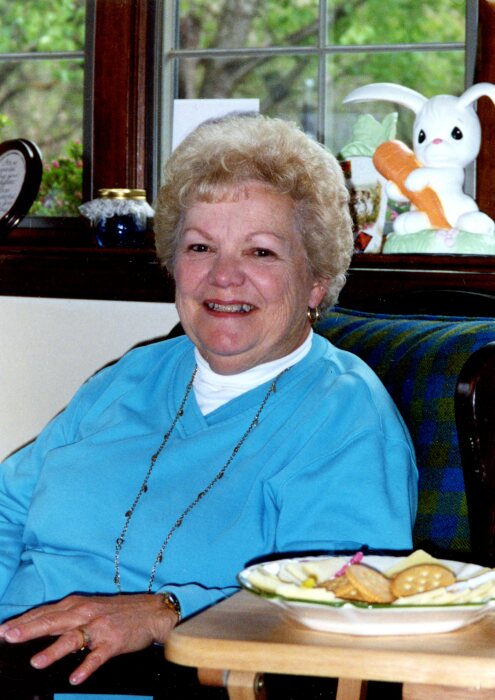 Share
Let the family know you care by sharing this tribute.

Evelyn R. Regan, (Nee French) of St. Petersburg, FL, passed away peacefully at home surrounded by family on May 4th, 2023. She was 92 years of age. Born in Maple Shade, NJ she is the daughter of the late Clarence and Romaine French and the wife of the late Donald J. Regan.
Evelyn retired from Conwed Corporation in Riverton NJ, where she worked in the shipping department. Her interests included providing private home ceramic lessons, traveling and sailing, luncheons with her "Red Hat" ladies, playing cards and most importantly spending time with family.
In addition to her husband and parents, she was predeceased by a sister Edna Bisset and brother George French. She resided formerly in Leisure town, Southampton, NJ since 1999 before permanently moving to St. Petersburg, FL in 2014.
She is the beloved mother of Gary G. Jackson, Deborah J Baldwin, George W. Jackson (Charlene A.), and Brian E Potter. Survived by Granddaughters Heather J. Baldwin, Gina E. Flynn (Terence), Julia A. Jackson, Leah G. Jackson and Jennica M. Jackson. Great grandchildren Graham, Owen and Connor Flynn, along with Sophia and Lacey Sowell. Predeceased by Grandchildren Troy Jackson, Gary G. Jackson Jr. and Kary E. Jackson. Also survived by many nieces and nephews.
Relatives and friends are invited to greet the family on Saturday, June 24th from 1:00 – 2:00 PM at the BRADLEY & STOW FUNERAL HOME, 127 Medford-Mt. Holly Road, Medford, NJ, where a Funeral Service will be held on Saturday at 2:00 PM. Interment will be private and at the convenience of the family in the BG Wm. Doyle Veterans Memorial Cemetery in Wrightstown, NJ. (www.BradleyStow.com)
Share
Let the family know you care by sharing this tribute.